AMERICAN ANCHOR TO EXPAND NEW JERSEY OFFICE

There will be some exciting changes happening within the Mid-Atlantic Region of American Anchor.
The Mid-Atlantic office is located in Freehold, NJ and its team services the East Coast area from New York to Florida. We are pleased to announce that Bob Zeolla, President of American Anchor, will be managing the New Jersey office directly and the Mid-Atlantic office will continue to service this area. We will be expanding our office and our team to provide an even greater level of custom fall protection services to our customers.
For inquiries regarding fall protection system designs, new installations, or repairs, please contact Bob directly at 800-371-8221 x1 or on his cell phone: 617-839-0962. You can also reach Bob by email at bobz@american-anchor.com.
For inquiries regarding annual inspections or proof load testing re-certifications, contact Carol Remes at 800-371-8221 x7 or 518-669-3497. You can also contact Carol by email: carolr@american-anchor.com
American Anchor looks forward to assisting you with all of your fall protection needs.
About Us
Robert (Bob) Zeolla
President
As a career window cleaner since 1975, Bob Zeolla was acutely aware of the hazards of working in the suspended access business. Most buildings lacked adequate anchorages, and the rigging practices in the past offered little assurance against a catastrophic accident. The lack of adequate safety equipment and standards resulted in injuries, fatal accidents, and lawsuits against building owners for millions of dollars. Bob became involved in training and the development of regulations to make a positive change. He put together a team of engineers and construction experts to develop products using the best resources available, and American Anchor was formed. His initiative has resulted in improved safety for workers, the public, and building owners. Bob served as the President of the International Window Cleaning Association in 2001 and he was a Member of the ANSI IWCA, I-14.1 Window Cleaning Safety Committee, Published October 2001. He is a current ASME A-120 Powered Platforms for Building Maintenance Committee member and has been a member of the Board of Directors of the International Window Cleaning Association for the past 10 years.
Phil Ricci
General Manager
Phil Ricci was the first and only employee when Bob Zeolla's original company, Sunset Building Services, was formed in 1998. After 15 years in the computer service industry, Phil joined forces with Bob to manage the specialty services outside of window cleaning. Phil then took over the management of the window cleaning and specialty services division to allow Bob to focus on the fall protection and safety business. Since the official name change to American Anchor Inc. in 2006, Phil handles the bookkeeping and insurance needs for the company.
Ron Carr
Regional Manager/Midwest
Ron Carr has been a high rise technician for over 30 years and has been on the American Anchor team for nine years.  Ron is IWCCI certified for façade access and he is a licensed SIA rigger. Ron holds numerous safety certificates for all aspects of façade access, including lift training. He relocated from Boston six years ago to open the Chicago office, where he currently manages the Midwest region.
Carol Remes
Inspections Manager
Carol has been with American Anchor since 2013, coordinating annual inspections and proof load testing re-certifications. She developed strong organizational skills during her previous 12 years in the advertising and marketing communications arena. A perfect fit for American Anchor.
Katie Serpa
Public Relations Officer
Katie has been a part of the American Anchor team since 2014. Her expertise encompasses aspects of business, communications, and education. Her eclectic background allows her to easily translate messaging and positioning into content that can be consumed by multiple audiences. Katie's ability to utilize all forms of media and communication to build, maintain, and manage the relationships with our customers has proven to be an asset to American Anchor.
Joseph Consolino
Regional Manager/Northwest and Southwest Region
Joe started his career with American Anchor many years ago in our corporate offices in Boston as an installer. After a move with his family to Phoenix, AZ Joe once again found himself employed at American Anchor. Five great years running that office and building up the client base found him up against a down economy. Another move to northern California found Joe working for another fall protection company working mostly in CA. Bob Zeolla did not want this valuable contributor to American Anchor's success stay out of the family any longer, and late in 2016 Joe opened our latest office on the West Coast. Joe covers the Northwest and Southwest Region, and special projects. His hobbies include motorcycle riding, roller blading and most importantly, time with his two amazing children.
Ernie Wheeler, Jr.
Houston Area Manager
Ernie has over 15 years in the industry, managing and working at heights in the fields of communication towers as well as offshore oil and gas. He has acquired multiple safety and competent working certifications and understands how crucial it is to provide a safe work environment for his fellow workers-at-heights. Serving many years in the field, utilizing management skills and safety practices that align with the values of the American Anchor family make him an asset to the Houston office and welcomed member of our national team.
Sandy Brown
Inspections Coordinator
Sandy has spent the last 25 years as an Executive Assistant, providing assistance to senior management in law enforcement, worker's compensation, accident investigation, and hospital administration. Deciding it was time for a change to focus her efforts in the safety industry, Sandy joined the American Anchor team in 2016.
Lawrence Williams
Mid-Atlantic Regional Project Manager
As a versatile and dynamic operations professional, Lawrence has continually found that his greatest successes have been achieved in the areas of management, administration, sales, and technical services. He developed an exceptional knowledge of safety and health regulations during his previous years in the public utilities field. His ability to manage teams, enhance safety and service quality, and retain customer loyalty make him a perfect addition to the American Anchor crew.
Eric Avard
Technician/Mid-Atlantic Region
Eric's construction experience began with his family's business, where he learned very early the value of quality workmanship, communication, and customer service. Eric provides leadership and oversight to daily operations with a commitment to high standards, integrity, and hard work.
Products
Discover the difference American Anchor makes…
Constructed with strict manufacturing controls, our anchors feature 304 Stainless Steel U-Bar attachment points and hardware. All other components are hot-dipped galvanized providing the most corrosive-resistant system available. Only certified welders, under the direction of professional engineers, assemble our anchors. Our anchors are backed by a 11 million dollar liability policy and a 2 million dollar product liability policy.
Components are engineered to withstand the rigorous use of suspended access workers for years of trouble-free service.
Services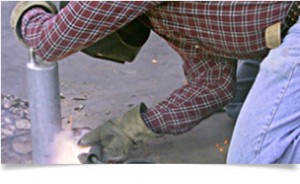 From anchorages for single line suspension systems, like Rope Descent Systems (RDS), to systems for supporting powered platforms and roof cars, all installations are supervised, approved and stamped by a licensed professional engineer experienced in the design of fall protection systems. American Anchor has installed and certified over 2,000 fall protection systems to date – with 100% satisfaction.
American Anchor's skilled team of professionals will work with you to evaluate your facility and design a system that meets your needs, satisfies compliance issues, and protects your investment from liability.
Site Inspection
Structural Review
Roof Safety Analysis and Discussion
Safety System Conceptual Layout
Engineered Design
Proposal
Installation of Fall Protection Systems
All products are manufactured in the USA to the Highest Standards.
Inspections, testing, and certifications of new and existing systems.
Call American Anchor at 800-371-8221 for a no-obligation evaluation of your facility. Our qualified experts will visit with you on site and offer an assessment of your fall protection requirements.

Case Studies
American Anchor has installed and certified over 2000 fall protection systems to date – with 100% satisfaction.
Our skilled team of professionals will work with you to evaluate your facility and then design a system that meets your needs, satisfies compliance issues, and protects your investment from liability.
Regulations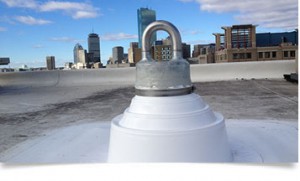 Codes and Regulations That Affect Suspended Access
We appreciate the opportunity to supply this information and look forward to helping you with your future safety projects. There may be additional codes and regulations that apply to your facility.
ANSI IWCA I-14.1-2001 Standard For Window Cleaning Safety Published October 2001
| | |
| --- | --- |
| 1.6.2 | Building owners and/or their operating agents shall provide to window cleaning contractors (certain) assurances: Installation or structure has been inspected, tested and maintained. |
| 3.9 | Building owners and window cleaning contractors shall not allow suspended work to be performed unless it has been determined that the building has provided, identified and certified anchorages. |
| 4.1.1 | All buildings where window cleaning is performed employing suspended equipment shall be equipped with roof anchorages or other approved devices that will provide for safe use of the equipment in conformance with the provisions of this standard. |
| 5.7.17.3 | Portable support devices shall be tied-back to a certified anchorage on the building. |
| 5.7.6 | Operators of rope descent systems shall utilize and be safely secured to an independent fall arrest system. |
| 5.8.6 | Operators of a transportable suspended scaffold shall utilize and be safely secured to an independent fall arrest system. |
| 13.2.2 | An anchorage used for a personal fall arrest system shall be independent from the anchorage used for the suspension system. Fall arrest anchorages shall be provided by the building owner. |
| 13.3 | Building owners shall provide anchorages conforming to sections 9 and 17 of this standard. |
| 14.6.1 | When a rope descent system is used for window cleaning, building owners shall provide anchorages. |
OSHA Regulations That Affect Your Property
| | |
| --- | --- |
| 1910.66(f)(3)(ii)(C) | Each transportable outrigger shall be secured with a tie-down to a verified anchorage on the building during the entire period of its use. |
| 1926.451(d)(3)(ix) | Tiebacks shall be secured to a structurally sound anchorage on the building or structure. |
| 1915.159(a)(8) | Anchorages used for attachment of personal fall arrest equipment shall be independent of any anchorage being used to support or suspend platforms. |
| 1915.159(a)(9) | Anchorages shall be capable of supporting at least 5,000 pounds (22.2 Kn) per employee attached. |
If at any time you would like to have one of our fall protection experts visit your site for a free no obligation consultation, please do not hesitate to call. We can also provide an expert guest speaker to explain to your group or organization these sometimes confusing codes and regulations and how they could affect your bottom line in the event of an accident. We can be reached at our corporate offices, 800-371-8221, or your local American Anchor office listed on our contact page.
Contact Us
When your property needs a fall protection system, work with the experts.
If your building is a new construction or retrofit project, we can design and install a fall arrest system to fit your exact needs. For any size project, our fast response with on-site visits, design, engineering and installation, increases your ability to meet deadlines and budgets, and come into compliance with current industry codes and standards.
If you are an architect, building owner, real estate management or construction company and are in need of information or assistance with your project, feel free to contact us by telephone, email, or by filling out the contact form.
Local services available in offices throughout the United States.
CORPORATE HEADQUARTERS
Foxboro, MA
71 Elm St., Suite 3
Foxboro, MA 02035
Phone: 800-371-8221
Fax: 508-543-9199
E-Mail: anchors@american-anchor.com
Albany, NY
Chicago, IL
Houston, TX
Las Vegas, NV

Philadelphia, PA

Phoenix, AZ

Salt Lake City, UT
Tampa, FL
Washington, DC